Gallery
A selection of Garments and Quilts
Garments
Aztec Cowgirl


Silk, hand-dyed cotton,




lamé, beads




(contact for price)


Midnight on the Water
Various fabrics, beads
(contact for price)

Twilight Fantasy


100% silk, glass beads




(sold)
The above three garments were created for the invitational traveling Fairfield Fashion Show
Batwing Jacket


100% Indonesian




batik cotton




(sold)

Zoot Suit Revisited


Recycled '40's man's




suit, beads and ribbons




(contact for price)

Twilight Fantasy (detail)


100% silk, glass beads




(sold)

Flower Suit


Iradescent pima cotton




(contact for price)

Ivy Tendrils


Moire faile,




knitted sleeves




(contact for price)

Pieced Silk Suit


Silks and acetates




(contact for price)

Flower Suit (detail)
Iradescent pima cotton


(contact for price)

Triangles


100% silk




(sold)

Bargelo Jacket


100% cotton, rayon




knitted sleeves




(not for sale)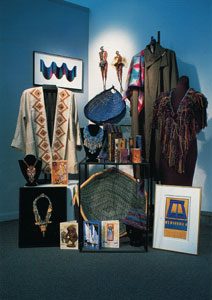 Publicity display at FiberWorks Gallery … my garment is the one on the left!
Quilts
Arise Ye Drowsy Sweepers:
Morning Sun on a 15th
Century Marble Floor


47″ x 47″ (sold)

Alexander's Heaven


48″ x 48″




(not for sale)

New Hope


36″ x 36″




(not for sale)
Release


76″ x 86″




(contact for price)

The Window


56″ x 68″




(sold)
Quilts

:

The Alexander Series
Anticipation and Joy


24″ x 24″




(not for sale)

Hopeful, Helpless (detail)


24″ x 24″




(not for sale)

Devastation


24″ x 24″




(not for sale)

Numbness


24″ x 24″




(not for sale)

Anger


24″ x 24″




(not for sale)

Release


24″ x 24″
(not for sale)
The above six quilts are a series entitled 10/26/91-8/22/92: Birth, Death, Fire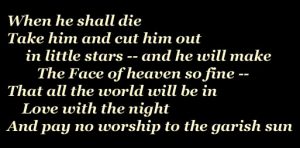 These pieces interpret some of the emotions I experienced during and since the short life of my first grandson. The inspiration to design a star block in his memory came when a friend sent this quote from Romeo and Juliet:
Using the same block as the base for each piece, I manipulated color placement, fabric choice, and block configuration to create the appearance that each is a different design. Working through this series proved to be both a vehicle for artistic challenge as well as emotional healing. Originally, these pieces were in perfect condition. Life doesn't always follow our planned progression; a fire in my studio added to the adjustments that must be made in order to continue living. The series in its fragile but stable condition still stands as a reflection of the emotions experienced for Alexander's birth and death.